Trusted & Respected Instructor / Practitioner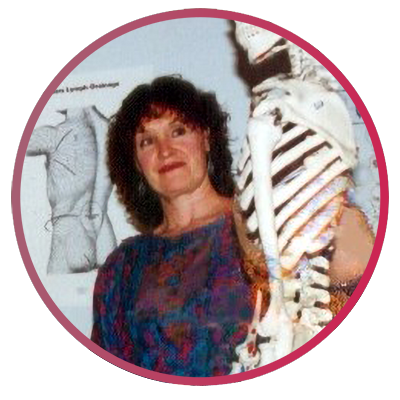 As a registered instructor and practitioner of aromatherapy and reflexology Sandy Rankin has more than 25 years of expertise, resources and knowledge she utilizes to provide highest quality training. Sandy has studied under some of the most outstanding and leading instructors involved in Aromatherapy, Reflexology, Indie Head Massage, and other complimentary healing therapies.
Sandy founded her first school of natural therapies, Aromatica, in 1996 in Windsor, and later moved the school to the Bruce Peninsula. Wanting to return to Windsor she later sold Aromatica and founded Aliphatic Ambrosia, a well respected school of Natural Therapies. Here, Sandy offers certification programs in Aromatherapy, Aromatherapy Spa, AromoMyology, Hot Stone, and Indie Head Massage.
Sandy held positions as Education Chair in the Reflexology Association of Canada where she helped create the Hand Reflexology Certification Manual. She is also a former Treasurer of the Canadian Federation of Aromatherapists.


Here's what our successful trainees have to say …
Sandy is a very experienced and knowledgeable teacher. She supports her students by providing comprehensive theory and hands on experience to support learning and practice. I am very pleased with the support I have received as I work towards my reflexology diploma. Thank you Sandy!
Amazing learning experience! Sandy's classes are very thorough yet fun ! Becoming a certified reflexologist was one of the best decisions I have made. The Reflexology class made me familiar with anatomy, the body systems, different conditions of the body and how to bring the body into a state made for healing. Being able to help others with natural therapy is a therapy in itself . Thank you Sandy Rankin you are an awesome instructor.
Amy Ostropolec
2023-08-11
Sandy was a wonderful teacher with a caring heart and helpful attitude. She's so knowledgeable in all she does and very professional. Show up ready to work hard for your course, and she will meet you with the same enthusiasm. Sandy was always very prompt with her replies and always willing to help. She was very understanding when I had things outside of class to deal with. It was definitely a lot of work, but I look forward to the journey ahead! So thankful for Sandy! I look forward to many more courses with her.
I attended Reflexology training with Sandy back in April. She provided an excellent environment to learn a new skill, with fantastic results! I thoroughly enjoyed her class and she is always willing to answer my questions - both during training and after, while preparing for our exams. I'm excited to share everything Sandy taught me with my clients.
Mary Ann Wahby
2023-08-11
I highly recommend Aliphatic Ambrosia school for its diverse Holistic courses. Sara Rankin is a highly qualified instructor who truly cares about the success of her students I have taken many Holistic courses through this school and continue to support and upgrade thru Sara's programs
Wonderful person to do business with and very personable.
Sandy is a great holistic teacher that is detailed and thorough with her practice. I've been having an awesome time learning REFLEXOLOGY! Looking forward to taking Aromatherapy Massage. Thank you!
REFLEXOLOGY: Amazing teacher amazing class! Can not wait to take other classes! Highly highly recommend!
Sandy is very knowledgeable and is an amazing instructor. Her courses are wonderful and I can't wait to take my next course with her.
Sandy is very talented in reflexology. Her years of experience come through in the 4 day workshops. She is excellent at what she does! I appreciated she was always prompt in communicating through email as well and tried hard to help in answering questions as I progressed through the home study portion. Thanks Sandy! I have enjoyed this experience! (:
Member Of:
Reflexology Association of Canada (RAC):
Programs are Approved by: