Aromatherapy Certification, Canada
Become a Certified Aromatherapist
Our Aromatherapy Certification program in Canada is open to students wishing to become certified aromatherapists.  Offered via correspondence, our aromatherapy training program is recognized by the Natural Health Practitioners of Canada (NHPC) for professional membership, and approved for CEU's by the College of Massage Therapists of Ontario.

Teaching Since 1996
All aromatherapy training is provided through Sandy Rankin, a registered aromatherapy instructor and practitioner who has studied under some of the most outstanding and leading instructors involved in Aromatherapy, Reflexology, Indie Head Massage, and other complimentary healing therapies. Through her 25 years of expertise, resources and knowledge, Sandy is able to provide you with the highest quality training.
Why Aromatherapy?
The field of Aromatherapy is exploding as science corroborates long-held beliefs about the curative properties and psychological effects of essential oils. In today's productivity-focused work environment, corporations are learning the benefits of aromatherapy in the work place. Individuals are increasingly turning to aromatherapy to de-stress and heal their battered psyches.
Physicians in France are prescribing essential oils to their patients, while hospitals in North America are experimenting with essential oils to combat resistant strains of bacteria. Our intensive, comprehensive approach to aromatherapy training equips you for private practice, working in spas, cruise ships, consulting or retail.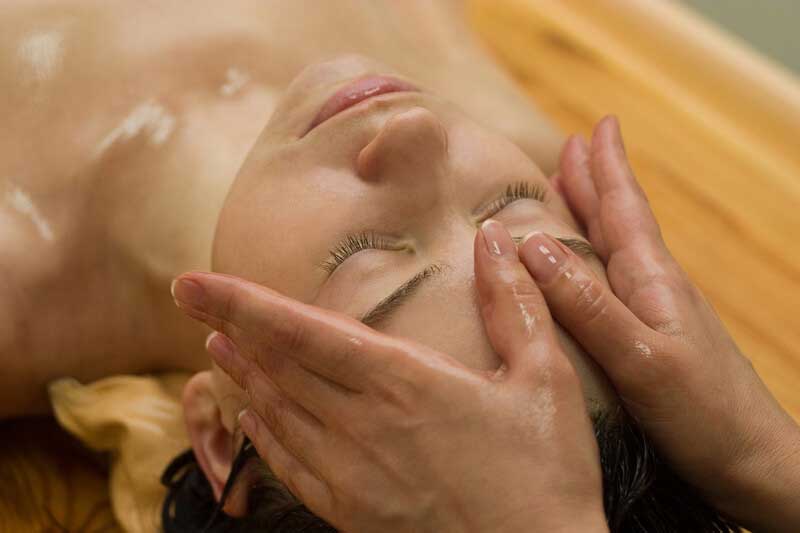 Aromatherapy Certification
The Aromatherapy Diploma Program consists of intense in-class hours of specialized education. It provides the student with an in-depth understanding of essential oils and their therapeutic effects on clients. Our Aromatherapy training includes both theory and practical education. All four modules and exams must be successfully completed to receive the diploma of "Certified Aromatherapist".
Sandy Rankin will guide you through the certification process. You'll find her experience as an aromatherapy instructor, practitioner and founder of two highly successful natural therapy schools invaluable to your training.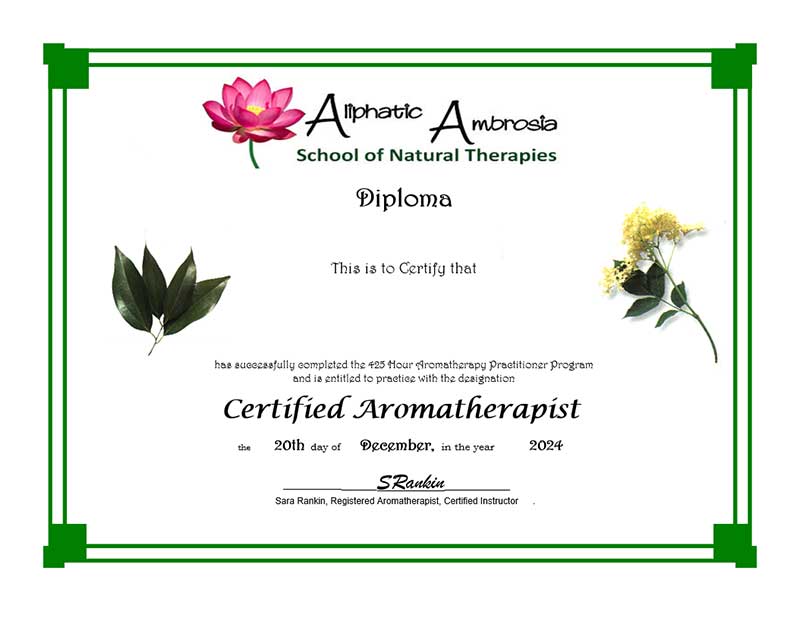 Aromatherapy Course Curriculum
Upon graduation, the student is entitled to apply to the Natural Health Practitioners of Canada for professional membership.
Curriculum
Module I
Anatomy, Physiology & Pathology: 12 Systems
Module II
Materia Medica & 60 Essential Oil Profiles
Module III
Expanded Applications: Pregnancy, Children, Babies, etc.
Business Practices
Module IV
Body Work: Students Must Complete 30 Case Studies
Research Projects
Students must complete one research project.
Admissions Requirement
Minimum 18 years old and a high school diploma or equivalent (mature student).
Tuition Fee for Aromatherapy Classes
The total cost of In-Class Tuition for the Aromatherapy Massage Program is $2,800.00. This includes a non-refundable deposit of $500. Once the deposit is paid, the balance of $2,300.00 is due on the first day of class. (Prices are in Canadian dollars).
Note: in-class training no longer available
This program is available by Correspondence.  The Correspondence Tuition Fee:  $1,825.00. The Correspondence Program can be started at any time.
Registration
A completed application form with a $500.00 non-refundable registration fee is required to reserve a place in class. Class size is limited to six students and early application is highly recommended to reserve your place.
Aromatherapy Course Material
Books are included in the tuition fees: An aromatherapy manual with essential oil information and study guide, as well as an anatomy, physiology and pathology manual and workbook for exam study are included. Scrubs are a requirement for massage instruction and are the responsibility of the student.
Examination Fee, Aromatherapy In-Class & Aromatherapy Correspondence
The Examination Fee of $125.00 includes the two written exams and the practical exam. The exam fee is due prior to writing the exam. Examinations must be ordered at least one month prior to writing the exam.
Next Program Date:   Correspondence available only, no in-class training.
While based in Windsor Ontario, Aliphatic Ambrosia provides training to students throughout Canada.