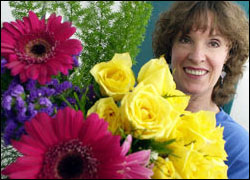 Sandy has been involved in the holistic field for over 20 years.  She is a Registered Aromatherapy Practitioner & Instructor and a Registered Reflexology Practitioner & Instructor.
Sandy has held positions as Education Chair in the Reflexology Association of Canada where she helped create the Hand Reflexology Certification Manual.  She was also Treasurer in the Canadian Federation of Aromatherapists.
Reflexology Association of Canada
Excellence in Teaching Award
Aromatica, Centre of Natural Therapies & Holistic Study, was founded by Sandy in Windsor in 1996 and ran very successfully as a school and therapy centre for six years before moving up to the Bruce Peninsula in 2002.
Sandy has relocated back to Windsor and opened under a new business name, Aliphatic Ambrosia, School of Natural Therapies.  She teaches Aromatherapy Massage, Reflexology Therapist and Spa Certification Programs as well as Certification Workshops in Indie Head Massage, Hot Stone Massage and Chinese Fire Cupping.
Teacher Trainer Programs are now available in all modalities
Member Of:
Reflexology Association of Canada (RAC):
Programs are Approved by:
National Health Practitioners of Canada (NHPC):